Abuja, 4 July 2017-The Federal Government of Nigerian is recruiting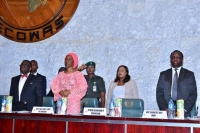 increased numbers of nurses towards revitalizing primary healthcare (PHC) and make health services more accessible, affordable and equitable for the attainment of universal health coverage (UHC).
The Acting President, His Excellency Professor Yemi Osinbajo made this declaration at the opening ceremony of the 14th Bennial General Meeting and 23rd Scientific Conference of the West African College of Nursing (WACN) in Abuja on 4 July 2017, adding, that "The government of Nigeria puts nurses at the forefront of primary healthcare delivery in the country".
Professor Osinbajo who was represented by the Honourable Minister of Health, Professor Isaac Adewole stressed that the theme of the conference - 'Emerging Health Emergencies: Community and health workforce response' - is apt towards sharpening the role of nurses and midwives in management of health emergencies. He challenged WACN participants drawn from Burkina Faso, Cameroun, Mali, Senegal and host, Nigeria, to review the situation of health emergencies in their respective countries and be part of result-based strategies needed to address persisting gaps.
The health emergencies response envisaged by WACN is also in line with the goal of saving more lives and promoting population wellbeing at all ages. It also fully aligns with national plans and the achievement of Sustainable Development Goal (SDG) number 3. The conference focuses on country and sub-regional actions needed to prevent and address health emergencies including Lassa fever, Rift Valley Fever, avian influenza, meningitis, Zika virus and Ebola virus disease among others.
The World Health Organization (WHO) through the 2016 - 2020 Global strategic direction; a third such plan under the World Health Assembly resolution 64.7 mandate, is continuing to support Member States to develop targets, action plans; forge strong interdisciplinary health teams as well as strengthen dataset on nursing and midwifery.
Speaking on behalf of WHO Country Representative, Dr Rex Mpazanje stated that "WHO identifies with the West African College of Nursing's noble goal of advancing high quality nursing education and practice for the West African sub-region under the aegis of West African Health Organization (WAHO) as well as ECOWAS's broader sub-regional developmental agenda".
He noted that WHO, will continue to support all these regional and national efforts towards "a heathier world as currently being advanced through the leadership of our new Director General Dr Tedros Ghabreyesus who has similarly singled out health emergencies, UHC and promotion of professionalism as some of the priorities to be pursued by the organization".
Some dignitaries, which included the Minister of Health and wife of Nigeria's President, were recognized and presented with awards  for their exemplary leadership and scholarly work towards the advancement of the nursing profession in Africa.
The Chairman, Senate Committee on Health, Dr Lanre Tejuosho and wife of the Acting President, Mrs Dolapo Osinbajo, witnessed the weeklong WACN conference, which will end on 8 July 2017.
---
For more information, please contact:
•       Technical contacts:
Dr Rex Mpazanje; Tel: +234 803 638 9632; Email: mpazanjer [at] who.int
•    Media contact:
Ms  Charity Warigon; Tel: +234 810 221 0093; Email: warigonc [at] who.int