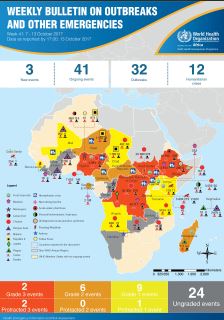 This weekly Bulletin focuses on selected public health emergencies occurring in the Region.
The WHO Health Emergencies Programme is currently monitoring 44 events in the region. This week's edition covers key new and ongoing events, including:
Wildlife anthrax in Namibia
Cholera in Zambia
Plague in Madagascar
Dengue fever in Burkina Faso
Humanitarian crisis in the Democratic Republic of the Congo
Humanitarian crisis in South Sudan.
Read the weekly bulletin on outbreaks and other emergencies - Week 41: 7 - 13 October 2017
For more information, please contact us at afrooutbreak [at] who.int