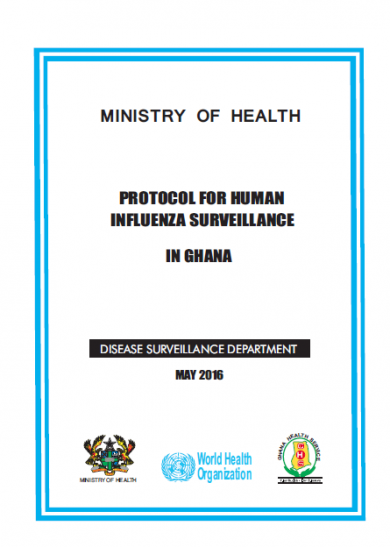 Protocol for Human Influenza Surveillance in Ghana
Influenza in humans is an acute viral respiratory tract disease often characterized by fever, headache, myalgia, prostration, coryza, sore throat and cough. Influenza is indistinguishable from other respiratory viral diseases without laboratory confirmation. Etiology: Influenza infection is caused by single-stranded RNA viruses belonging to the Orthomyxoviridae family. The viruses are classified as influenza types A, B and C. Influenza A
and B viruses can cause epidemic disease in humans, and type C viruses usually cause a mild, cold-like illness. Influenza A infects multiple species, including humans, other mammals, and wild and domestic birds. Influenza A viruses can be sub typed according to the antigenic and genetic nature of their surface glycoprotein; 16 Haemagglutinin (HA) and 9 Neuraminidase (NA) subtypes have been identified to date. Many different combinations of HA and NA proteins are possible. Only some influenza A subtypes (i.e. H1N1, H2N2 and H3N2) have been associated with widespread epidemics in humans. The current human influenza A subtypes in circulation are H1N1, H3N2 and H7N9.