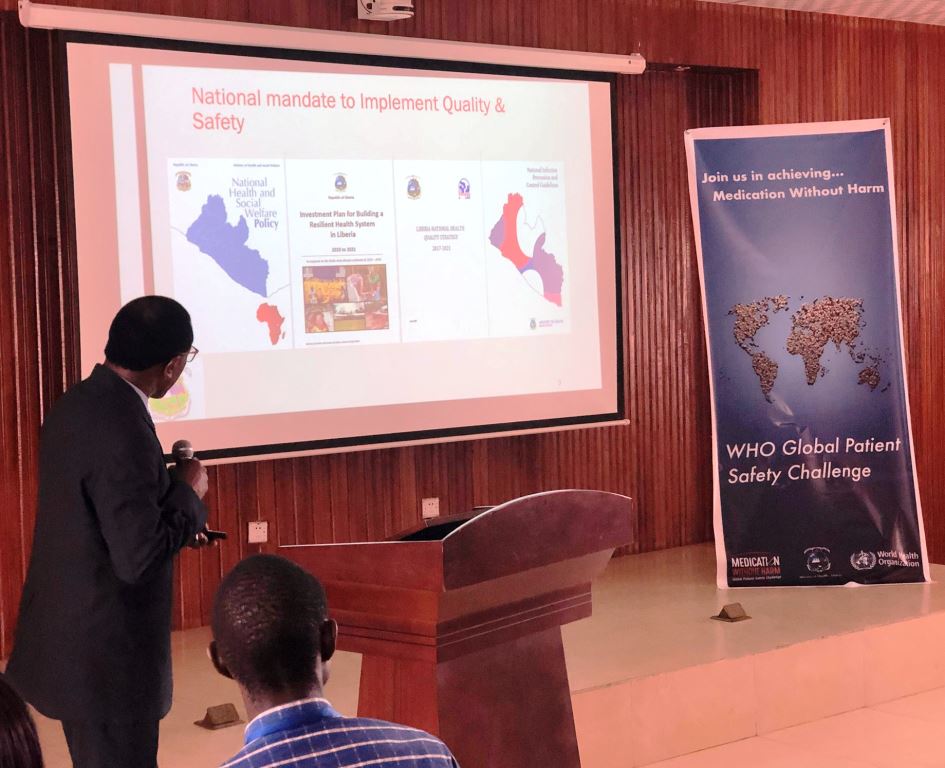 In an effort  to reduce severe and avoidable medication-related harm by 50% globally in the next five years, the Ministry of Health with support from WHO on 1st May 2019 launched a national campaign to increase public awareness of medication safety  and the need for safer medication practices in Liberia.  The event brought together 57 major stakeholders including policy-makers, regulatory agencies, civil society organizations, health partners, hospital leaderships, program managers, media practitioners, health professionals, among others.  
The high-level launch of the national patient safety campaign, under the theme "medication without harm" was held at the Central Ministry of Health in Congo Town, Monrovia, as a part of the 3rd WHO Global Patient Safety Challenge: Medication without Harm. The call to action for the global patient safety campaign focuses on the key message "Before You Take It: KNOW…, CHECK…, and ASK…"  It encourages and empowers patients, their caregivers and health care professionals to play an active role in ensuring safer medication practices and medication use including prescription, preparation, dispensing, dosage, administration and monitoring. 
According to global statistics, unsafe medication practices and medication errors represent the leading cause of injury and avoidable harm in health care systems across the world, with an estimated cost of US$42 billion annually. The 2017 national patient safety baseline survey conducted in Liberia also highlighted the lack of a functional drug or therapeutic committee and an effective reporting system for tracking adverse drug reactions and medication error as some weakest links for patient safety in Liberian hospitals.
While launching the campaign, Dr. Francis N. Kateh, Chief Medical Officer,   Republic of Liberia, thanked WHO and partners for their strong commitments toward improving health care quality and patient safety in Liberia. He said Patient-centered care, of which medication safety is a part, is very important in health care delivery and all efforts must be exerted to achieve this in Liberia. He emphasized the need for health care providers to educate their patients about their medications.  Dr. Kateh then called on regulatory agencies, policy makers, and partners to support the Ministry of Health in protecting the public against medication errors and unsafe medication practices in Liberia.
Speaking on behalf of WHO, Dr. Moses K. Jeuronlon, Cluster Coordinator for Disease Prevention and Control at the WHO Country Office, said patient safety is an important human right issue and essential for achieving universal health coverage.  He said when patients are committed to our care as health care professionals, we have to ensure that their safety is guaranteed.  Dr. Jeuronlon then reaffirmed WHO's commitments and called on the Government of Liberia and all stakeholders to join the WHO's Global Patient Safety Challenge: Medication Without Harm in Liberia.
Also speaking at the program, Mrs. Tarlor Quiwonkpa, Chief Nursing Officer, Republic of Liberia, attributed the cause of most medication errors to the lack of open communication among health care professionals in discussing patients and medication safety. 
Other speakers at the program  who also pledged their commitments to scale up the campaign at all levels in the country  were representatives from the Liberia Medical and Dental Council, Last Mile Health, Partners in Health (PIH), civil society, community-based organizations, among others. 
A week of activities preceding the launch of the campaign included advocacy meetings, radio talk shows, social media awareness, distribution of posters, flyers, installing mobile-apps with key messages promoting safe medication practices, newspaper publications , oral presentations, and declaration of commitments to promote patient safety and medication safety, experience sharing about medication errors and unsafe medication practices in Liberia.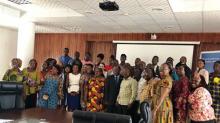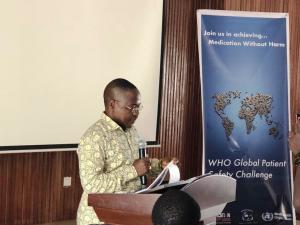 Click image to enlarge
For Additional Information or to Request Interviews, Please contact:
National Infection Prevention and Control Officer
WHO-Liberia
Tel: + (231) 770205707
Email: bolongiem [at] who.int
Health Information and Promotion officer
Tel : +(231) 776532008
Email: lakev [at] who.int