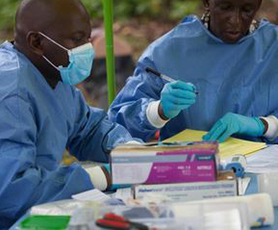 Sub-Saharan Africa experiences about 100 acute public health events annually. The majority are infectious diseases outbreaks, followed by disasters and chemical incidents. All the 47 Member States are at risk.
The WHE is part of the Global Emergency Programme coordinated from Geneva. The vision of this cluster is protecting health and saving lives in outbreaks and emergencies. The mission is to help countries, and to coordinate international action, to prevent, prepare for, detect, rapidly respond to, and recover from outbreaks and emergencies.
Priorities include:
Stopping the Ebola Virus Disease outbreak while restoring health systems
Conducting regional risk-mapping for public health emergencies to build early warning and response systems
Strengthening regional capacity for strategy information management for decision making and operations coordination, using one common platform
High level advocacy meetings for International Health Regulations (IHR), including other sectors
Innovative funding mechanisms for the African Public Health Fund
Building countries' capacities for IHR
Specific programmes which fall under this global WHO programme include country health emergency preparedness and IHR; emergency operations; health emergency information and risk assessment; integrated disease surveillance; infectious hazard management; and food safety.